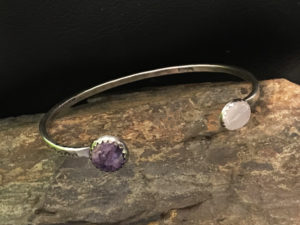 In this class you will be creating this beautiful sterling silver reverse cuff bracelet accented with semi-precious stones. Learn how to size your bracelet, texture, and shape it to fit your wrist. You will be soldering on sterling bezels to fir your selected semi-precious stones. Once completed, patina will be added if desired, and the final step will be to set your stones. Sterling silver wire, bezels, stones and use of tools are included in the class fee.
Prerequisite: Some soldering experience helpful.
Class price includes use of tools, sterling silver, semi-precious stones, and all consumables.